Primary co-curricular
ÁñÁ«ÊÓƵ¹Ù·½ Scopus is committed to providing an inclusive, enrichment program so that all students within the College have an opportunity to 'shine' in an area of their choice. The enrichment activities which we offer have the capacity to engage, challenge and stimulate the student's learning experiences.

At the junior campuses, lunch time enrichment clubs are offered that might can include chess, drama, gardening, developing a worm farm, physical fitness, skipping, performance group, choir, art, environment group and library. These activities are held on different days during the week and the students are encouraged to participate.

At the Smorgon Family Primary School (SFPS) a wide range of activities is also offered. All activities are offered during lunch playtimes and all students are encouraged to participate. This can help some students to connect with link-minded children across year levels, as well as provide exposure to areas that students may not otherwise have the opportunity to try. The program varies each term with some activities targeted to a specific year level, whilst others are open to all. A sample of the program is provided below.

| Year level | Monday | Tuesday | Wednesday | Thursday | Friday |
| --- | --- | --- | --- | --- | --- |
| | | | | | |
| All levels | Photography | Chess | Early Morning String Orchestra, Lego, Ukulele | Library, Indoor board games | Garden, Library, Indoor board games |
| Year 4 | Garden | 20/20 Cricket | Loom Band club | Math Masters | Indoor basketball |
| Year 5 | Bike riding | Mindful Art | Math Masters Garden | | Early morning swimming |
| Year 6 | Sewing | Water polo | Math Masters | Minecraft | Breakfast club Early morning swimming |
The College's music program is diverse, comprising a classroom music program, as well as diverse co-curricular learning and performance opportunities across all three primary campuses. Private music lessons are available to students in Prep onward, and performance opportunities are offered to those learning at the College as well as those who learn elsewhere.
To learn more about the diversity of performance opportunities as the students progress and peruse the handbook below.
In recent years, Scopus has developed a strong music program, with almost half of all primary students between Prep and Year 6 undertaking private vocal and / or instrumental lessons at school, ranging from violin to piano to drums. We encourage our students to perform at assemblies and soirees as well as public events, and offer them opportunities to compete in interschool competitions.

Our instrumental rental or rent-to-ownprograms helps students to try a new instrument before parents make a more significant financial outlay.
The rent-to-own program applies for Year 4 onward for Flute, Trumpet, Trumbone, Clarinet and Saxophone only. It includes free consumables, school based maintenance, music theory class and AMEB 1-5 /TCL exams. Contact the Music Administrator for more information.

Leadership training is provided to children throughout their primary years.
Alongside the development of student agency, the Year 3 Discovery Centre at FKI will provide students with incredible leadership and decision making opportunities, the outcomes of which will impact the running of the campus.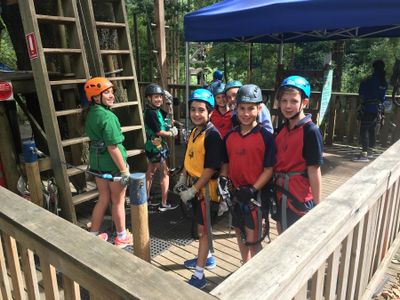 At SFPS, Year 6 students can choose to participate in the Achrayim (the responsible ones) program. Achrayim students plan for assemblies, participate in after-school leadership sessions and are also coordinate many 'in school' events whilst broadening their mindset and challenging themselves to move beyond their comfort zone.
Students experience their first school camp in Year 3 with an overnight camp. Outdoor education camps are held in Years 4 and 5 developing a range of skills and experiences. Year 6 students visit Canberra and learn about our history and culture from a range of perspectives.