Secondary co-curricular
The formal curriculum is supplemented by a substantial array of co-curricular activities and an informal program of Jewish education including camps and retreats as well as special events and festivals throughout the College.

Within the Lew Family Secondary School leadership training and development is fostered to provide students with important life skills and encourage them to show initiative.

Students in all year levels at LFSS are involved in celebrating the chagim. Students are able to participate in early morning minyanim, the Friday night Scopus minyan and weekly shiurim. Years 11 and 12 each have a Shabbaton, whilst the Zionist Seminar, Lag B'Omer program and Chanukah program are run for specific year levels.
Additional programs offer students opportunities to develop their interest in leadership and community service. A comprehensive community service program takes place in Year 9 offering the students volunteering opportunities with both Jewish and non-Jewish organisations. Scopus encourages students to give back to the community by enabling volunteer work for amazing causes.
Year 9 students can also participate in the Netzigim (representatives) Program, which grounds them in leadership and is an advantage for securing future leadership roles within the College.

An overwhelming majority of Year 10 students undertake the Hadracha Leadership Training Program which provides training and development in general leadership skills. Graduates of this program become the madrichim who run Jewish Studies activities and camps for Primary and Year 7 and 8 students.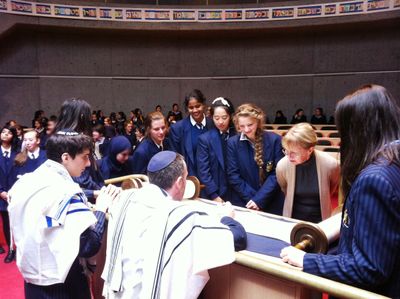 Year 11 students who choose to join the Roslyn Smorgon Outreach Program act as ambassadors, explaining Judaism and their life as young Australian Jews to non-Jewish peers from other schools whilst reinforcing their own Jewish identity at the same time. Additionally, the Year 11 Shiluv (Engage / Integrate) Conference exposes the students to a variety of interesting Australian and international speakers on Jewish topics ranging from Performing Arts and ethics in business to Middle Eastern Politics. This enables them to begin evaluating and focusing on their Jewish identity and future roles within the Jewish and broader Australian Community.
Alongside all of this is a plethora of other cultural, sporting and subject-related co-curricular activities offered to students.

Visual arts students have a wide range of opportunities to both further and display their talents. Photographic competitions, exhibitions, creating artworks to support College productions and Jewish life related activities are all on offer.

The performing arts are strongly supported and highly regarded, consistently winning the coveted Lyrebird Youth Theatre and Musical Guild Theatre awards. There is a diverse range of opportunities for participation, front and back of house, including the College musical, senior play, house plays and the musical soiree. Students are also invited to perform in the meaningful school wide commemorations that are held for Yom HaShoah and Yom HaZikaron, as well as Anzac Day.
There is a wide range of sporting options available. Students can join myriad before and after school activities as well as during lunch breaks, including swimming, cross-country and gym workouts. And the ABL Australian Jewish Interschools SnowSports Championships brings together students from across Australia.
The diversity ensures that the opportunity is there for each and every student to become involved and develop their passion. Discover just a small taste of what's on offer below.
Student Leadership
College / portfolio/ house / bus captaincy; Student Representative Council; Hadracha (leadership) traning and camp; Madrich roles - camps and mentor programs for junior secondary and primary students
Jewish Life
Year 10 Ulpan - 5 or 9 week Israel program; Boys / girls prayer services and Megillah leyning; Friday night Minyan; Year 11 - Shiluv conference; Shiurim
Sport
EISM region competitions; Gym training (indoor and outdoor); Squad programs - athletics, swimming, volleyball; Ski team
Culture
College musical and House Plays cast or crew; Scopus Idol and Soiree (vocal and instrumental competitions); Scope Yearbook and Opus newsletter contributors; Mark and Eva Besen College Orchestra; String Orchestra
Community and Service
Year 9 Yorta Yorta b'Yachad indigenous experience trip and learning; Stand Up refugee programs / Harmony Day; Emmy Monash volunteering; Junior campuses service; Roslyn Smorgon Outreach Program
Subject related enrichment
Tournament of the Minds and DaVinci Decathlon; Baron Snider Public Speaking competition; Art and photography exhibitions and competitions; Inter-school debating